Best Student Insurance Provider 2016
'Best Student Insurance Provider'
We are delighted to announce that we've been awarded 'Best Student Insurance Provider' in the Insurance Choice Awards 2016.

We'd like to say a big THANK YOU to all of our customers who voted for us!
We've had some great responses and feedback from you. We're delighted that so many of our customers are happy with our service. See the results and reviews here.
The Insurance Choice Awards have been launched to help consumers find the best insurance companies on the market. These are the only insurance awards in the UK decided by YOU, real customers, and not 'industry experts', so only YOU can decide who wins.
Smart Money People, who run the awards, are the UK's leading independent review platform for financial institutions. Mike Fotis, founder of Smart Money People said: "It's our mission to help consumers find the best products and providers on the market. There are hundreds of insurance companies in the UK, and customers often tell us that on the whole they are less happy with their insurers than their banks, so the Insurance Choice Awards is setting out to find out what customers really think about their insurers, and to help us find the best insurance providers."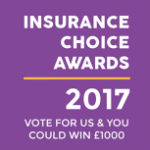 WIN £1,000 — Vote for us in the 2017 Insurance Choice Awards, for your chance to win a £1,000.