3 min read

Students—Dealing With Homesickness
Most people will have felt homesick at some time in their lives, perhaps when they were younger, and it is easy to forget just how overwhelming it can be. Beginning life at university naturally generates both excitement and anxiety about the move, academic work, meeting new people. For some, this apprehension is quickly overcome as they adapt to a new environment; for others the transition takes longer and sometimes emerges as homesickness where there is a preoccupation with home-focused thoughts. There is a yearning for and grieving over the loss of what is familiar and secure: most often it is about the loss of people - family and friends - but it is also about the loss of places and routines, and the realisation that family life continues without you. Create the perfect bedroom: Well empty walls and bare shelves are only going to make you feel miserable and miss your room back home even more. So there is a simple solution – take it with you! Pack everything up from your bedside lamp to the dusty ornaments in the corner that you've never really liked and there'll be nothing to miss!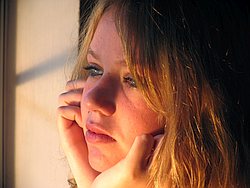 Be snap happy:
Swamping your walls with photos of family and friends can make you feel right at home without the unwanted nagging of having to clean your room, you can wake up to great memories every morning. Keep busy! Rather than moping your way around the flat/house whenever you feel the homesickness creeping in, go and find an activity to do that'll take your mind off it. Join societies, try new things, meet new people - the time will fly by before your next visit or phone call home. Another benefit of getting out and actually doing stuff is that you'll have something to talk about when they ask what you've been up to!
Send out the invites:
Many people can't afford to travel home during semesters, so instead of forking out on train tickets, get home to come to you. Once you're settled in and feel like you can blag being slightly knowledgeable about the area, invite friends and family to come and stay so you can show them all the local attractions. They probably don't want to intrude on your precious time at Uni but if you're really missing home, I'm sure they'll be more than happy to go out on a jolly and see what you get up to. Plus, you don't want to be that person that goes home every weekend. Think of all the Saturday afternoon pub crawls you'd miss out on!
Video chat:
You might be hundreds of miles apart but there's no better way to close the gap than with a nice little video chat session every now and then. Great ways to talk to loved ones and see the goldfish you now suddenly long for after years of disregard. And what's more it's free with a lot off different apps available today.

Talk it out:
Trust me, you won't be the only one sat on your bed clasping photos and tattered teddy bears, pretty much everyone is in the same boat. So why not do something radical and talk to each other if you're feeling a bit lonesome. After all, it's not like they won't understand what you're going through! There's a good chance that no matter how bad you're feeling, it's nothing a nice cup of tea won't sort out. Also, if you'd rather not admit your troubles to your friends (though they'll undoubtedly be happy to help) then you should speak to university counsellors or student reps that will be able to point you in the direction of some good advice. It might seem hard at first but remember the ridiculously long holidays where you'll no doubt be yearning after wild nights out and the freedom of spending whole days in pyjamas. We'll be writing 'How to cope with being back home for Christmas' before you know it.
Need A Quote For Student Contents Insurance?
|
|