Recomend A Friend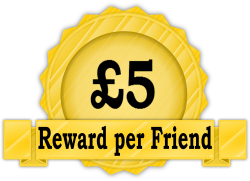 Purchase a policy and invite friends: Earn £5 for every friend who buys a policy.
Each friend will also save £5 off their insurance premium.
You will earn £5 for every friend who purchases a Student Possessions Insurance policy with us.
NB: They must hold their policy with us for at least 30 days for you to qualify for the payment.
Terms & Conditions
|
Frequently Asked Questions:
How it Works

⇒⇒
After buying a policy, tell your friends about us
Anyone who follows your unique invite link gets a £5 discount off their insurance policy.
⇒

⇒
Your friends purchase a student/tenants insurance policy from us.
Your friends hold a policy with us for 30 days.
⇒⇒

Get £5 for every friend you invite that purchases a policy with us.