1 min read

Pedal Cycle Security Advice
Top Tips For Keeping Your Bicycle Safe
Bicycles can be an important part of people's lives, whether you cycle in order to get you to work, or cycle to school, college or university as a student, the last thing you need is for you bike to be stolen.
Write Down As Much Information As Physically Possible
The make and model of your bike
The number on the frame
The type – bmx, mountain, racing, men's, women's, children's
The colour
Frame size and wheel size
Identification marks – stickers, badges, repairs or even grazes or visible damage
Seat colour and shape
Tyre colour and type
How many gears, their style or type
Any accessories you may have – Lights, reflectors, mud guards, chains.
General Security Tips For Protecting A Bike
Always lock your bike, with a secure lock, click here to see if your lock is up to the industry standard, even if you are nipping in a house or a shop for a minute. It can take seconds to steal a bike.
Try and secure the lock around the frame and handle bars for further protection.
Remove any items that can be stolen easily such as: Lights, torches or reflectors.
When possible try and lock the bike to none removable items things like tress or railings can come in useful.
Do not leave the bike in a dark area where it is out of sight if the security is going to be breeched.
Make sure you have Bike Insurance
These are the most common places to find the pedal cycle's frame number, you should also have the number on the sales documentation you received when the bicycle was purchased.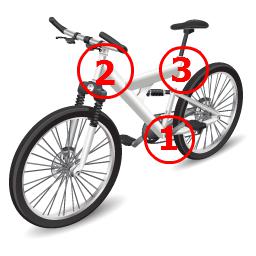 Under the crank at the bottom of the bicycle.
At the front of bicycle under the handlebars.
Under the saddle on the seat upright tube.