6 min read
19th February 2020
10 Steps To Securing Your Accommodation Off Campus

Moving off campus or out of halls of residence can seem quite daunting as there is a lot to think about:
Selecting housemates.
Finding a suitable property.
Managing your rent.
Managing your utilities.
But try not to worry, this is a process that most students must undertake at some point, listed below are some pointers so that you can approach the rental market with confidence and be successful in getting your new place.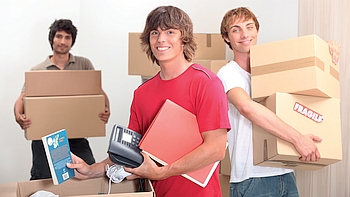 (1) Where to start?
In order to give yourself the best chance at living in a student home with the right housemates, you need to consider 3 things and remember your friends don't always make the best housemates.
Consider how much you can afford - What is your budget?
Who you would like to live with? Tidy person, party animal etc.
Where would like to live? Distance from university, bus links etc.
Timing: It is a good idea to start this process around January time to give yourself the best chance of getting the property you would like - but don't worry if you start later the process is still the same.
(2) Where to look?
Start by looking online for available properties that suit your needs, popular websites such as rightmove and zoopla are a good place to start. Check if your university has a preferred agents list or a place where they share student properties adverts - for example a student accommodation page which has rooms to let or a Facebook group.
Remember not to be too trusting of property adverts, you will need to:
Ask plenty of questions.
Research on the property history.
Letting agent.
Landlord.
Is the rent competitive.
Visit the property.
Check the EPC rating to see how energy efficient the property is as this may indicate how much you need to spend on energy bills. - Check our guide on

How To Switch Energy Supplier If You're A Tenant.



Timing: You should aim to start looking for your property online in February.
(3) Register with estate agents or university/student union manage accommodation providers.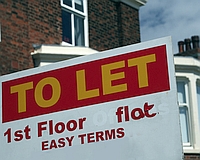 Register with a few different agents to help find the best property to suit your budget.
Also keep an eye out for agents that include bills in the rent such as gas, electricity, water charges, broadband and even insurance. They might appear more expensive at first glance but once you take into the account the benefits they may well work out cheaper.
Timing: You should aim to have this completed by Mid-February.
(4) Arrange viewings with the agent or landlord.
You should always view the property in person and if you're planning on renting with other people, make sure that all the tenants see the property before you make a decision. It's a good idea to have more than 1 viewing and visit at different times so you get a feel of the area.
Try not to get too excited and remember to ask as many questions as possible this is your chance to find out as much as possible about the property. If the agent/landlord are unsure of an answer get them to come back to you with a response rather than accepting an assumption.
Have a checklist ready such as:
What type of heating system is in the house?
Are there any signs of damp - don't be afraid to move furniture that is pushed up against a wall so that you can check behind it?
Are there smoke alarms - if yes where are they located?

Is there any Carbon Monoxide Detectors - particularly near boilers, and gas fires.
Open and close windows and doors to check they work properly and lock.
What is the decor like - good state?
Are there fire labels on the furniture?
If possible, speak to the current tenants about there experience of living there.
Look at neighbouring properties - kept well? Good Lighting?
Can you park your car? Where can you keep your bike?
Is there additional storage available in the house?
Timing: You should look to do the viewings around March.
(5) Once you have found a suitable property, make an offer and pay a holding deposit.
When you have found the property you want, you may be asked for a holding deposit, this is normally equivalent to one week's rent and must be paid before the property is taken off the market. The cost should be deducted from your overall invoice.
Timing: Aim to have this completed in April.

(6) Gather the documents you need for the reference checks and ensure you have a guarantor in place if needed.
References.
Agents & Landlords will carry out reference checks on you and your housemates, some of which are a legal requirement. When you complete their application form you maybe asked for one or more of these documents:
Passport , visa or bio-metrics residence permit.
University enrolment letter.
Previous landlords reference (if you have lived in halls of residence you should be able to get this from your university accommodation office).
UK based guarantor.

Make sure that everyone in your group has the information needed as you may miss out on the property you want if there are delays in the application.
Check your tenant's right to rent - GOV.UK
Guarantors.
A guarantor is a 3rd party who agrees to pay your rent if you fail to do so. Normally a parent or relative. As a student you may need a guarantor who is employed and able to provide proof of income in order to pay your share of the rent.
Please note that most contracts make you jointly and severally liable for rent, meaning guarantors are liable for rent if any tenant fails to pay.
Without guarantors, you can expect to pay your rent in advance. There are companies that offer guarantor services such as Housing Hand or yourguarantor but always compare prices, benefits and check the fees.
NB: Not all agent and landlords accept guarantor services so check before making an offer.
(7) Review your tenancy agreement, have it checked for you, some universities/student unions will provide this service.
Take your time and review your contract thoroughly - don't be afraid to ask more questions to get clarity on what you are signing.
Check that anything that had been previously agreed on viewing the property has been written into the contract, such as improvements or changes to the property - if not written down then its is unlikely that the landlord will make the changes.
Once you have read through the contract highlight any clauses that you are unsure about and then:

Ask the agent landlord to confirm.
Get the contract checked out properly (some universities/student unions may offer this service). You could also check with the

Citizens Advice
Remember, fees are banned - Your landlord or agent can no longer charge fees before or during your tenancy. They may charge you for the following but these costs should be clearly stated in your contract:
Lost keys or security fob.
Late rent payments.
Changing a tenant.

If you decide to end your tenancy early.
(8) Pay the remainder of your deposit and first months rent.
(9) Collect your keys on the day your contract starts.
Make sure to get a copy of the inventory and ask to be present when this is being done.
You could also look at getting your house keys/fobs insured - Key Insurance.
(10)Once you have moved in remember to send your Council Tax exemption certificate to the council and check your waste collection dates/schedule.
Remember that Council Tax exemption only applies until the end of your course. If you are in your final year required to pay council tax from their graduation date until the contract end date.
(11) Get Insurance
Make sure that your contents and possibly your landlord contents are covered if you're responsible for them under your tenancy agreement. Remember as you are no longer in halls you will no longer be covered by any scheme that your University had in place and also it is unlikely that your parents' home insurance will cover you in your shared accommodation. Check out our Guide To Student Contents Insurance for more information.
---
You may also be interested in: