Campervan Insurance
Compare Campervan insurance from a panel of specialist insurance providers . You can also compare prices for converted vans and multiple drivers
What is a Campervan?
A Campervan is a van that is equipped as a self contained travelling home. Campervans are normally smaller than Motorhomes. There is generally no divide between the cab and the living quarters. They usually have basic facilities for cooking, washing and sleeping.
Why do I need Campervan insurance?
Like car insurance, Campervan Insurance is a legal requirement, insuring you against liability to others. It may also include cover your Campervan for accidental damage you cause depending on the policy you select.
What types of cover are there?
Same as car insurance there are 3 types of cover - Third Party, Third Party Fire and Theft, Comprehensive
What do they cover?
Third Party - Covers the essentials required by law, namely claims made against you by third parties for damage you caused.
Third Party Fire & Theft - Same as Third party but includes additional cover for theft or fire damage to your Campervan.
Comprehensive - Covers any damage to your Campervan or a third party vehicle or property damage as a result of an accident.
How can i reduce my premium?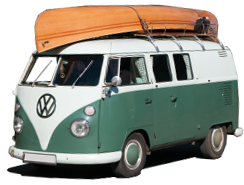 Park your Campervan in a Garage or at least off road rather than outside the house.
Remove all valuables from the Campervan when not in use.
Fit additional security such as an alarm, steering wheel lock or immobiliser